Went to this Korean resto a few days ago and had my lunch there. It was my first time with Korean food since I'm such a chicken to try new things and yes, I admit that I'm kinda scared of their kimchi. But surprisingly, I actually enjoyed the whole experience even with all the Koreans singing and shouting "Aja!" at the table next to us. And I also ate sushi and also liked it, even after swearing off Japanese food.
(My turn at the pan and tongs. No acclaimed cooking skills.)
I would like to send a big shoutout of THANKS to the very sweet and nice couple, Doodz and Tanya, who brought me there and gave me a crash course on how to eat Korean food. Cheers to more of our food trips!
After our Korean food trip, we dropped by Shell Select (yes, that gasoline station's convenient store) to get my fave junkfood to take home. But I was surprised to find Preview's (our local fashion magazine) March 2009 issue by their magazine stand. I have been looking for it for days. Whoever thought I'd find it there of all places?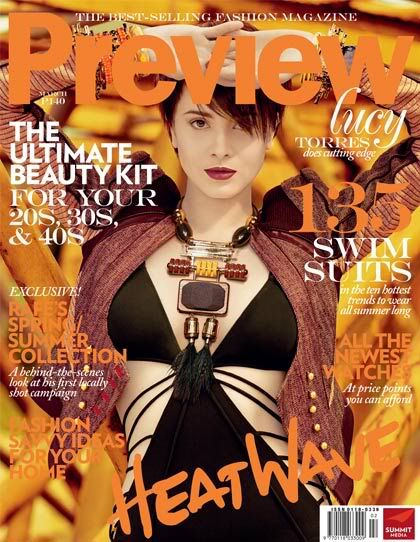 Here's their March cover with Lucy Torres (a local commercial model turned actress, host and product endorser.)
I'm not really a big fan of her but I'm really liking her in this cover. She looks very edgy (which, by the way, is so not her!) and most importantly, she's rockin' it! Kudos to Preview for the refreshing twist they did to Lucy's sweet and meek image. And kudos to Lucy, a.k.a. Doodz's mommy (hehehe), for being fearless in this shoot.
Do visit Preview's online magazine at StyleBible.ph. But I guarantee you that the issue is sooooo much better, oozing with amazing stuff that would already cover you for the whole summer duration. So go now and grab your own copy asap... at the bookstore, magazine stand, or even Shell Select, nearest to you.