It's Sunday and I thought I'd take it easy today. No rushing to anywhere, no talk of work (hopefully!) and no headaches of any sort. I'm simply chillin' today while listening to some bossa. This while browsing through some celebrity fashion sites.

I honestly no longer check celebrity sites ever since I discovered the likes of Lookbook and Chictopia. I figured I'd rather look for refreshing ideas of real clothes worn by real people, if you know what I mean.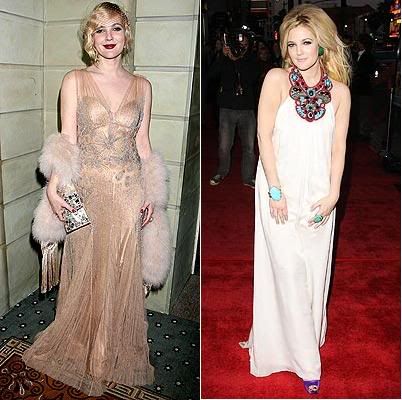 But I couldn't help but notice how Drew Barrymore came in the scene again in a fashionable whirlwind. She was all over the town a few weeks ago while promoting her latest flick, Grey Gardens. I just adored her in her '20s and '60s inspired looks (see above).




She also threw in a few modern looks. I'm not really a big fan of those puffy sleeves but the
silhouette is classic and the
shoes are to die for!



Anyway, on a completely different note, I've been stuffing myself with food from the very minute I woke up and then even more food as every hour goes by. This is all my mom's fault. She cooked all these food 'coz the boys are all gathering up today to watch the much-anticipated boxing match between Manny Pacquiao & Ricky Hatton.

This doesn't help my need to lose weight at all!
And yes, I know I'm whining already. Ha!
Photo Credits: www.People.com